The History of Merino wool in South Africa
The sheep and wool industry is one of the oldest agricultural industries in South Africa. It plays an important economic role as an earner of foreign exchange for the country. Although carpet type wools have been produced in Northern Africa for centuries, the production of fine apparel types on the African continent only commenced with the arrival of the first Merino sheep at the Cape in 1789, and the subsequent establishment of the woolled sheep industry on a commercial basis under British colonial rule (1806 - 1910). During the whole of its colonial period the Cape province remained the most important wool producing area in Southern Africa. Although the sheep industry spread rapidly throughout virtually the whole of the country during subsequent years, "Cape Wool" has become the international generic trade term for all wool produced on the sub-continent.
Merino wool produced in South Africa is mulesing free.
Mulesing:
What is mulesing: Mulesing involves the removal of strips of wool-bearing skin from around the breech (buttocks) of a sheep to prevent fly strike
What is Flystrike:
Parasitic infestation of the body of a live mammal by fly larvea that grow inside the host while feeding on its tissue.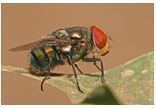 Steps taken in South Africa by farmers and the industry to combat and prevent mulesing
• The largest proportion of the South African wool clip is from harsh, low-rainfall areas (for example the Karoo) where blowfly does not exist
• The South African Merino has, over the years, been bred for less skin folds
• The average flock size in South Africa is considerably smaller than in Australia. Consequently, the South African woolgrower can shear his flock more often, which eliminates wool growth in the area where blowfly lay their eggs
Map of South Africa below, with the main wool producing provinces being the Western, Eastern and Northern Cape.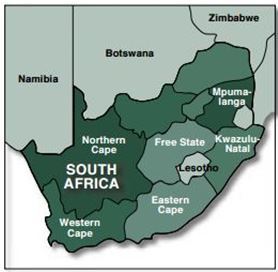 Merino sheep photographed in the Great Karoo in the Cape Province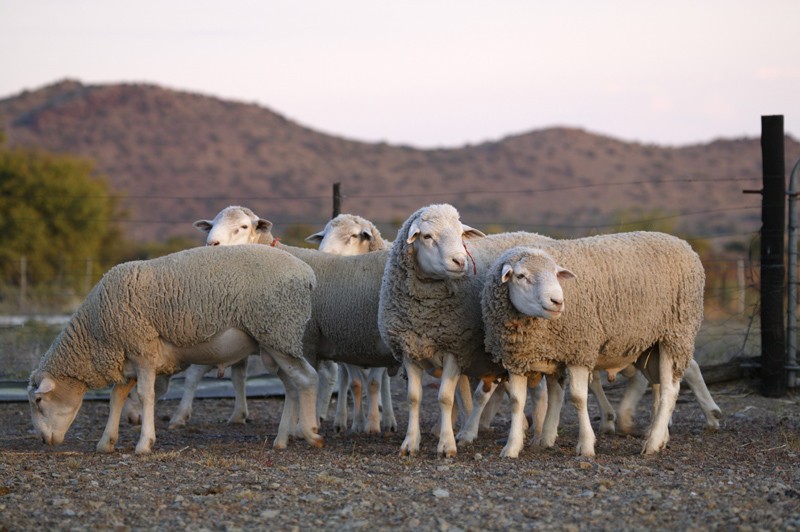 The History of Mohair wool in South Africa
The story of how Angora goats arrived on our shores and grew in numbers is truly amazing. In 1838 the Sultan of Turkey sent twelve neutered rams and one female to Port Elizabeth, halfway across the world. The rams were rendered infertile, as the Sultan wanted to protect his country's powerful mohair empire. What he didn't realise, though, was that the ewe on board was pregnant and gave birth to a kid ram en route to Africa, which was the start of the industry in South Africa. The Great Karoo region produces the most mohair in the world – all thanks to the Sultan's mistake and a pregnant ewe.
Cape Mohair, regarded the finest and best quality mohair in the world
Worldwide mohair is largely produced in South Africa (which presently accounts for over 50% of global production), South African mohair (Cape Mohair), being regarded as the finest and best quality in the world.
Angora goats photographed in the Great Karoo in the Eastern Cape Province