Vinnis Colours is a wholesale yarn company based in Cape Town, South Africa. Vinnis Colours is specialized in hand dyed cotton and bamboo yarns with a palette of over 200 colours.

Vinnis Colours History
In 1993, Vinni Nielsen, a nurse and a native of Denmark and an avid knitter since childhood, made her home in South Africa. She soon realised that the South African yarn market was in dire need of a good range of coloured cotton yarn. She began to experiment with dyes in her kitchen and Vinnis Colours was born. Very quickly she needed to hire staff to skein and ball the yarns that were draped over her furniture and hanging up in the windows to dry. The business moved from the kitchen to the garden shed, where the yarn was dyed in baths. After 6 years she was finally able to move her rapidly expanding concern into its current premises, which is two factory buildings in Cape Town.

This success has had much to do with the dedicated help of a team of supportive staff (as well as faithful customers who love this unique South African product) who live within a stone's throw of the factory. All processes are done by hand, from the dyeing to the balling and skeining, and the yarn is sun-dried in the factory forecourt.

The product
It is the wide range of colours, from soft pastels to deep, vibrant colours that makes our product perfect for the needs of the most artistic crafter.
Pictured below Vinni and her dedicated team.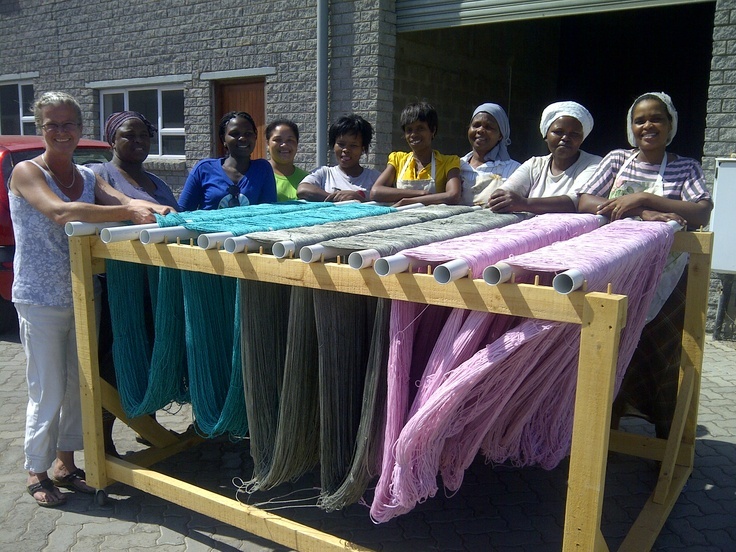 Below Team Vinnis.
1. Nomanganisa Bhane who balls yarn.
2. Nontuthuzolo Sylvia Finca who balls yarn.
3. Elma Daniels who is Vinnis assistant and multi skilled in dyeing and balling.
4. Qhawekazi Nkabi who is multi skilled and dyes yarn.
5. Noncedo Ndamase who skeins and balls yarn.
6. Pakama Adams who balls yarn and is in training for dyeing.
7. Vuyelwa Ketwa who balls yarn.
8. Nombukelo Gladys Booi who skeins and balls yarn.
9. Nolubabalo Alicia Adams who is multi skilled and dyes yarn.